This month, I am publishing an article about censorship in Overland Magazine. Most of the article is a reflection on my involvement in anti-censorship campaigns in the early 1970s. At the time, I was one of three editors of the University of New South Wales student newspaper Tharunka and later part of a group of anti-censorship activists  who produced the underground newspaper Thorunka. Val Hodgson and Alan Rees were the other two editors.
Overland's Clare Strahan interviewed me about my experiences with activism.
The newspaper has not been digitised, so I scanned a few articles to give a flavor of our ideas and the types of articles and illustrations we published. There were hundreds of pages so this is just a very small sample. I may add to this collection later.
Click the images to see the full size jpegs.

- Tharunka editorial for Eskimo Nell issue - March 1970
- Author Frank Moorhouse's Editorial for Tharunka's Literary supplement issue - 1970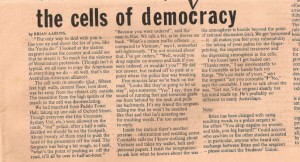 - This is a short report by Brian Aarons about his arrest in the Vietnam Moratorium in 1970s. We ran lots of reports of this kind, particularly about student protests, the Vietnam moratoriums, Gurindji landrights demonstrations and anti-apartheid protests.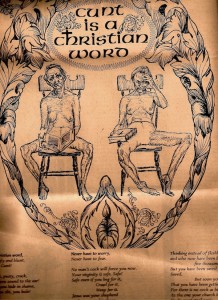 - This is the illustration that went with the poem 'Cunt is a Christian Word'. The publication of this poem led to the first charges against the Tharunka team.
- Male homosexuality was still illegal in 1970. The police routinely harassed homosexual men. Gay Liberation was just getting off the ground. The Council for Civil Liberties published a column in Tharunka and we published reports such as this one.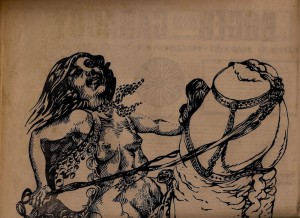 - Tharunka was shocking by the conventional standards of the seventies. It was however bawdy, rather than arousing...