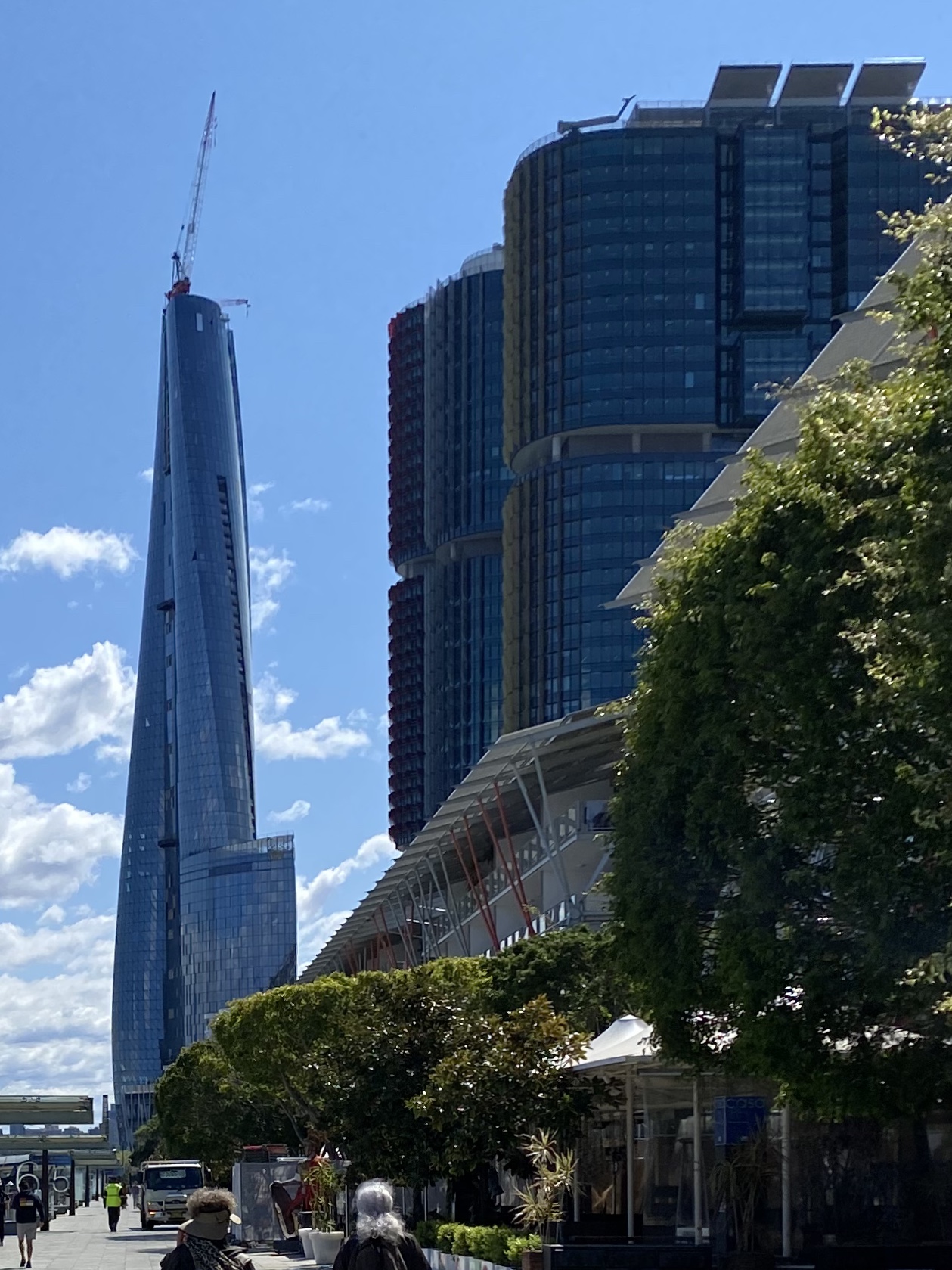 Packer's near finished casino at Barangaroo, Darling Harbour
NSW police have charged a 30-year-old man after an investigation into his gambling transactions at The Star casino in July.
He was searched while he was at the casino and more than $10,000 in cash, $50,000 in casino chips and documents were seized. A search of his home resulted in police seizing a further $70,000 in cash and a CCTV system.
Police allege he bought the chips with the proceeds of crime. Assuming this is correct, the man was very likely part of an organised crime operation involving a number of people. It remains to be seen whether the 'Organised Crime unit' are able to penetrate the rest of the circle involved in this laundering enterprise or whether the arrested man will shut-up and cop the blame.
There was nothing surprising about this small crime news event. Casinos have long been known to be havens for organised crime to launder illegal proceeds. Indeed some experts would argue that laundering cash is part of the very purpose of casinos.
The most lucrative gamblers of all are the international high rollers who are targeted by 'junkets' that offer incentives and promotions to bring them onshore. A large number of junkets have been linked to triads (organised crime). Junkets also behave like banks, lending money to players and collecting debts. This enables money laundering and relieves casinos of the nasty burden of debt collection. Over the last decade, the key strategy of Australian casinos has been to build the VIP high-roller business.
New South Wales Independent Liquor and Gaming Authority (ILGA) also fined The Star casino recently $90,000 when it reported three cases of underage gambling. In one case, the parents of a 12-year-old girl whose parents brought her in through an exit door to play the pokies. In another, a 16-year-old girl gained entry through a VIP checkpoint without showing any ID when accompanied by a middle-aged man who was a platinum VIP member.
Gambling concerns ignored
None of these unfortunate matters appeared to be on the mind of the NSW government last week when Planning Minister Rob Stokes announced the draft Pyrmont Strategy. This will allow The Star to build a luxury hotel of up to 180 metres high on its site, and other developers to build high rise buildings nearby.
The plan for the luxury hotel was specifically promoted by The Star as a way of enticing more international high rollers enabling it to compete with Crown Sydney across the water at Barangaroo. Recently The Star has also been given the right to be the only casino with poker machines until 2041. If another casino is allowed to have poker machines, The Star will be paid compensation by the NSW government.
The government has already flagged residential buildings of up to 45 storeys further west at Blackwattle Bay.
This means that Sydney's skyline will dramatically change from being human-scaled to one filled with high-rise buildings, although it's unlikely that any will visually challenge Crown Sydney in its ability to attract attention. The drivers of these planning decisions are the powerful developer lobby and a government that is focussed on keeping the construction industry afloat during COVID.
The gambling connection was not missed by the Lord Mayor Clover Moore who rejected the strategy as 'zombie planning'. "It is deeply disappointing to see The Star's zombie tower rise from the dead," she said.
"Future development in the precinct should prioritise jobs and industries of the future, not gambling," she told the SMH.
She was also a critic of Crown Sydney at Barangaroo when it was approved. Independent MP for Sydney Alex Greenwich also noted in response to the Pyrmont strategy that exceptions were being made for 'gambling magnates' rather than consideration being given to community need.
Crown Resorts under investigation
Meanwhile, Crown Sydney will be very dependent on high rollers for its gambling profits, but also on the sale of its luxury apartments to recoup the money spent on the Lendlease development. The building is being internally fitted with the specific aim of attracting very wealthy gamblers. Recently Crown Resorts drew down another $100 million bank facility to complete the construction.
This week, Crown Resorts has reported an 80.2% decline in net profit after tax and 40.6% fall in EBITDA for the year ended 30 June 2020. It has been heavily impacted by the effects of COVID-19 which has seen Crown Melbourne closed since 23rd March. The losses would have been even higher if it was not for Jobkeeper.
The company has said that Crown Sydney will still have a "phased opening" later this year although, from the outside, the building does not appear to be nearly finished. Given the Chinese government's crackdown on wealthy gamblers and no international tourists allowed into the country from anywhere, the short-term prospects for the high roller casino do not look rosy.
Independent Liquor and Gaming Authority Inquiry
There is also a serious ILGA inquiry that has not been going well for Crown. This Inquiry, which has the powers of a Royal Commission, will determine whether Crown Sydney will continue to hold the licence that it was granted in 2014 to operate the Barangaroo casino. If Crown does retain the license, it may be required to make changes to the way it operates.
The Inquiry followed reports in The Age, Sydney Morning Herald and 60 Minutes that Crown worked with "junket" tour operators backed by powerful Asian crime gangs. These revelations built on earlier 4Corners allegations about links between Crown and junkets linked with organised crime in 2014 and the arrest and conviction of19 Crown employees in China in 2016. The employees pleaded guilty to breaching Chinese laws that forbid the promotion and marketing of gambling. Some of these employees became whistleblowers.
It is worth noting that the allegations in 2014 and 2016 did not stir the NSW government to question the wisdom of granting Crown Resorts a license for a high roller casino targeting rich Chinese gamblers. It took what the former Supreme Court judge Patricia Bergin SC, who is presiding over the Inquiry, described as 'dogged journalism' for the allegations to get attention.
The Inquiry has not been going well for Crown. For instance, evidence has been led that as far back as 2010 immigration staff at the Australian Consulate in Guangzhou China warned that Crown appeared to be acting as a visa agent across China for its own VIP gamblers, and for others not associated with its business. The consulate found that a proportion of the visa applications going through Crown's office were fraudulent.
This week Barry Felstead, CEO of Crown's resort operations in Australia, has been in the witness box. He is a mild-mannered man with an apologetic tone and a very poor memory.
In March of 2015, Michael Chen, who was then Crown's president of international marketing, told Felstead that some workers were growing increasingly concerned with the company's activities in China.
Felstead confirmed that he was made aware of fears among the company's employees working in China when the government was conducting a blitz to enforce its tough gambling laws.
Chen wrote in an email, "This is one thing that is important to understand when it comes to the China team: they are living in constant fear of getting tapped on the shoulder." "In a country where due process is inconsistently applied, it's a risky place to be for all our team ", he wrote.
On receiving these warnings, Felstead took no action. He told the ILGA Inquiry "I was of the view that the risks were being managed adequately in China." He agreed that he sent an email to staff in China suggesting that the crackdown was a "challenge" to which they should rise. The Crown staff were urged to apply themselves in striving for bonuses that were calibrated to their individual volume of sales.
Felstead could not explain why he took no steps to make a note of the staff concerns on the company VIP business risk register. If he had done so, the Crown Board would have been forced to discuss the concerns.
In 2016, 19 members of Crown's China team were arrested.
One is left with the impression that Crown regarded Chinese law enforcement as just a risky inconvenience in their business model.
Later in the week, the previous managing Managing Director of Crown Resorts Rowen Craigie told the Inquiry that he was not aware of extensive media coverage in 2015 of the Chinese government's crackdown on overseas casino gambling, and that he was also not aware of the internal communications between Crown executives about staff fears. He agreed that evidence about deceptive conduct of Crown executives in relation to Chinese gambling was not consistent with the Crown Resorts' stated policy to conduct their business ethically.
Craigie resigned from Crown in 2017 after a 27-year career with the company. The then Chair of Crown Resorts John Alexander said that "Rowen has ensured Crown Melbourne has remained the largest and most successful integrated resort in Australia, with the highest standards of social responsibility." Craigie pocketed $10 million on leaving Crown Resorts, and was then appointed by the Andrews Labor government to the Board of Racing Victoria. In January this year, Alexander stepped down from his position as Chair. He was replaced by ex-Liberal Senator Helen Coonan, who has been on the Crown board for many years. Alexander remains on the Board and will be paid $3.5 million over the next year for his work on 'special projects'.
When Sydney Crown's new building at Barangaroo reached its full height in May this year, Chair Helen Coonan, the NSW Treasurer Dominic Perrottet, Lendlease CEO Steve McCann and the new CEO of Crown Resorts Ken Barton held a small celebratory, duly socially distanced function. The reports emphasised the marvels of the building including 50 different types of stone that will be used. It's unlikely that the awkward topic of the ILGA Inquiry was mentioned, including that it had already heard evidence that VIP casinos and organised crime go together.
James Packer
James Packer resigned from the Crown Resorts board in March 2018 but he is still a major shareholder through CPH Holdings which is based in an offshore tax haven. It was reported that this was due to problems with his mental health.
James Packer has been mentioned often at the Inquiry. Executives have given evidence that James was particularly interested in the high roller business because it was more interesting and profitable than poker machines. The ABC has previously reported that he will be called to give evidence.
Packer was recently spotted on his $200 million four-storey yacht, which towers over the buildings on the shore of the Mexican resort Cabo San Lucas. Packer seems to like the place:he is building a $50 million luxury home onshore. In 2017, he purchased three oceanfront blocks of land, each for around $9.7million. It has been reported that local residents are concerned that his new building will remove access to the only public beach in their area.
Packer has also paid $60 million for two floors of Crown Sydney at Barangaroo where he plans to bring his children, who live in Los Angeles, for holidays.
When he first put forward his unsolicited bid to build Crown Sydney at Barangaroo, Packer boasted that it was a gift from himself to Sydney. Most of Sydney's media, the Liberal government and Labor opposition cheered him on. Anyone who criticised was silenced or ignored. (More on the history of Packer's bid can be found here.)
Whatever happens inside its walls, the $2.4 billion Crown Sydney building is now a landmark. If you're in inner Sydney, it is hard to escape. Whether you are walking in the Rocks, through the University of Sydney or along the cliffs of the North Shore, you glance towards the city and there it is. People will argue forever about the quality of its architecture. Crown's PR team thinks that "it rises gracefully above the city's shoreline" and "redefines bespoke luxury". In a tweet this week, respected architect and City of Sydney Councillor Philip Thalis referred to it as "super intrusive, glinting, glaring totem of greed." Its real significance is what it symbolises. For those who know its history, it will stand as a reminder of an improper and hidden planning deal that delivered a personal victory to an exceptionally wealthy but weak and insecure man. Crown Sydney is not supposed to be inclusive or inviting. Its extremely expensive international restaurants and the 24-hour butlers to serve its anticipated cash-loaded clients seem like an uncomfortable fit for COVID hard times.
If we were not familiar with the way decisions about our urban environment and social planning get made in NSW, it would be hard to believe that the evidence given by senior executives to the current Inquiry would not lead to a finding that Crown's license should be removed. Packer's gift to Sydney was always a nightmare in disguise. It would be nice to imagine that a line might be drawn under the corruption of NSW planning decisions, but that would be naive.