This is the third story in my series on the Waste Industry and the odour problems at Bingo's landfill in Sydney's West. It's good to see the media pick up on the issue. However, as I think you'll agree when you read this post, much more independent local and environmental journalism is needed to hold big corporate players and government accountable.
EPA actions fail to stem Bingo odours
This week, Bingo's unhealthy odours are still destroying the quality of life of residents in Minchinbury, Rooty Hill and nearby suburbs in western Sydney. Months of not being able to exercise, garden and entertain friends and family is damaging mental and physical well-being in the community.
A baker who stays up all night working is suffering headaches. Residents can't garden and at times, it's even difficult to hang out the washing. At the end of a long day's work, some people dread returning home. It's been going on months now and residents are feeling desperate and angry. They will be holding a 'Fight for Health' rally near the gates of Bingo this Sunday June 6th.
On Wednesday, 2GB's Ben Fordham took up the cause of the residents and interviewed Steve Beaman who is the Director of regulatory action for the NSW Environmental Protection Authority (EPA). Beaman initially tried to suggest that the odours had dramatically improved and that spot checks were not revealing hydrogen sulphide (H2S). Having listened to the residents, Fordham was unimpressed and demanded to know why the Bingo landfill had not been closed down. Beaman sounded guarded and very defensive. He didn't explain why Bingo can't be shut down but kept assuring Fordham and his audience that the EPA would keep on Bingo's 'hammer' until the problem was solved. It sounded lame.
Later on Wednesday, the ABC reported that local, state and federal Labor politicians had repeated their call for escalated action. "Shut down the site now, local residents have had enough", said Chris Bowen, the federal member for McMahon.The NSW Labor MP for Mount Druitt, Edmond Atalla, and the Blacktown Mayor Tony Bleasdale supported the statement.
The EPA's solution is 27 wells dug into the landfill to pipe odorous gas to four flares that will burn it to produce a less harmful mixture of gases. This new equipment was meant to be operational more than a week ago. So far the solution, which Bingo claims has cost more than a $1 million, has not solved the problem.
Most big landfills use a gas system and the EPA has not explained:
Why a gas system was not previously required?
What material is causing the odours and how did it end up in a landfill that is not permitted to receive organic waste that results in H2S odours?
How long does it predict the new system will take to work?
Why the EPA has not taken more decisive action or prosecuted Bingo?
While the COVID vaccination problems are rightly capturing national attention, this Bingo situation is a local public health crisis that has merits more media focus. Residents report headaches, breathing difficulties, sore throats and stinging eyes, all of which are symptoms of hydrogen sulphide poisoning.
Last week in response to questions, the EPA told me that if the gas system does not work, it will consider further regulatory action. Potential actions include suspension of licence or prosecution for breaches of the licence. While it is focussed on stopping the odours, the EPA "has been collecting evidence as part of this process and will consider appropriate regulatory action in line with our Prosecution Guidelines and Compliance Policy. The regulatory investigation is ongoing."
There is likely to be some delay because, even after a brief of evidence is prepared, it will need to be approved by senior lawyers.
Bingo's blame game
The company has been reluctant to accept responsibility for the odours. The crisis has come at an awkward time for Bingo, which is in the process of being taken over by infrastructure management giant Macquarie Infrastructure Real Assets (MIRA). Since it was identified as the source of the odour, Bingo has blamed the rains. But although moisture might exacerbate the problem, it cannot cause it. In any case the intense rains are now long gone. Now Bingo is back to blaming others. In response to a resident's complaint this week, it denied its landfill was the source of recent odours. In a media release this week, Bingo said that the EPA had confirmed that odours were found at other facilities but this appears to be a case of company spin designed to minimise its responsibility. Last week, the EPA told me that through a variety of methods, it had confirmed that Bingo was the likely source and that it had carried out inspections of other facilities to confirm that the conclusion that Bingo is the source was correct.
Although Bingo makes a big effort to promote its image as a green-friendly corporate citizen, it has a tendency to avoid responsibility for environmental harm caused by its activities. For example, Bingo is currently being sued in the Supreme Court of NSW for selling contaminated aggregate recycled waste to civil engineers GC Group in 2017. The contaminated material was used in an Albion Park development and had to be replaced. This caused losses for GC, which is suing for breach of contract and breaches of consumer warranties. Bingo identified 700 different companies that had delivered the building and demolition waste that was recycled and on-sold. But other than one company that was owned by Bingo, it was not able to lay the blame on any particular customer and so attempted to apportion blame to hundreds of small companies. In March this year, the court rejected this approach. If it had allowed it, it would mean that every time Bingo supplied contaminated recycled waste, it could blame all its customers who delivered waste for recycling during the period when the contaminated material was produced. This case is still ongoing.
2019 EPA audit found serious problems at Eastern Creek landfill
The relationship between Bingo and the EPA raises serious questions about the way the NSW government is regulating waste businesses in NSW.
The EPA does industry-wide compliance audits. Bingo was last audited in 2018/2019 when the company was in the process of being transferred to Bingo from Ian Malouf's company Dial-a-Dump. Rich Lister Malouf made a massive profit out of the sale, shifted his business direction to chartering super yachts in his Eastern suburbs home turf, and this week was reported to have spent record amount of $60 million on a single apartment in Sydney's CBD.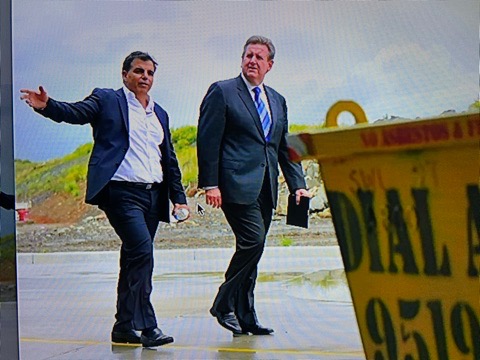 Screenshot of Ian Malouf and then Premier Barry Farrell arriving for a champagne party to celebrate the opening of the landfill in 2012
Due to Australian Competition and Consumer Commission concerns about corporate concentration in the waste industry, the sale process took many months. By the time the final report was delivered, Bingo owned Dial-a-Dump. Malouf remained on the Board and is the second biggest shareholder. Some of Malouf's other senior executives are still in management roles at Bingo.
Although the EPA has conducted other inspections, the 2019 audit was the only on-site compliance audit since then Liberal Premier Barry O'Farrell opened the landfill in 2012.
The audit identified licence breaches and revealed more than 100 separate problems in the environmental management of the landfill.
Most ordinary people are accustomed to the idea that they'll be accountable for even minor breaches of the law. If they were to read this audit report, many would be shocked that a landfill was allowed to run in such a risky and lax fashion.
The only other audit was a 'desktop' one in 2013. This revealed failures to meet environmental monitoring requirements. While gaps in monitoring are regarded as 'administrative' failures, they do hamper investigations should environmental problems emerge.
The 2019 audit report is clearly presented but not easily accessible to most community members. It is disappointing that it was not reported by the media as it would have alerted the community and local politicians to environmental risks at the landfill. This is especially unfortunate as last year Bingo was given the go-ahead to massively expand its operations.
EPA warned Bingo of rain risk
The March rains may have added to Bingo's current odour problem but the 2019 EPA audit explicitly warned Bingo that the landfill was not well prepared for rain.
During 2018, the sediment dam on the landfill had overflowed during heavy rain. Dial-a-Dump staff attempted to explain away this incident by claiming rainfall events that did not match up with Bureau of Meteorology records. The company claimed three times more rain than actually fell.
The inspectors found that on another day of heavy rainfall when the dam overflowed, it would not have done so if enough freeboard (distance between the water level and the top of the dam walls) had been maintained.
The audit also found that mismanagement of the landfill leachate also exposed stormwater to additional contamination risk.
Bingo's Corporate Manager Chris Gordon told me that during the recent heavy rains, Bingo applied to Sydney limit to increase the amount of leachate that could be discharged. He did not state what agreement was reached with Sydney Water.
Other problems
Other problems identified by the audit included:
Dust was meant to be controlled with water spray sourced from a sediment dam, but at the time of the audit this had not happened for some time because the pump was blocked with silt.
The in-pit dam contained rubbish and had not been cleared because a dinghy used for the purposes had capsized.
The company was not monitoring the water quality often enough and that it was not following its own approved Environmental Management Strategy.
The company had not taken "all practical steps to avoid water pollution" and had exceeded limits of total suspended solids on at least one occasion.
Records relevant to other pollution events were not available.
Monitoring points were not clearly labelled.
The EPA was particularly concerned that uncontrolled noxious weeds were growing on the site and could be a hazard to nearby residential areas. There was no effective pest management strategy.
Waste left exposed on the landfill. It found to be a fire hazard.
A fire that occurred had not been reported to the EPA as required.
Asbestos was left exposed on the landfill.
Zinc, Total Organic Carbon and Ammonia levels were not being monitored as often as required.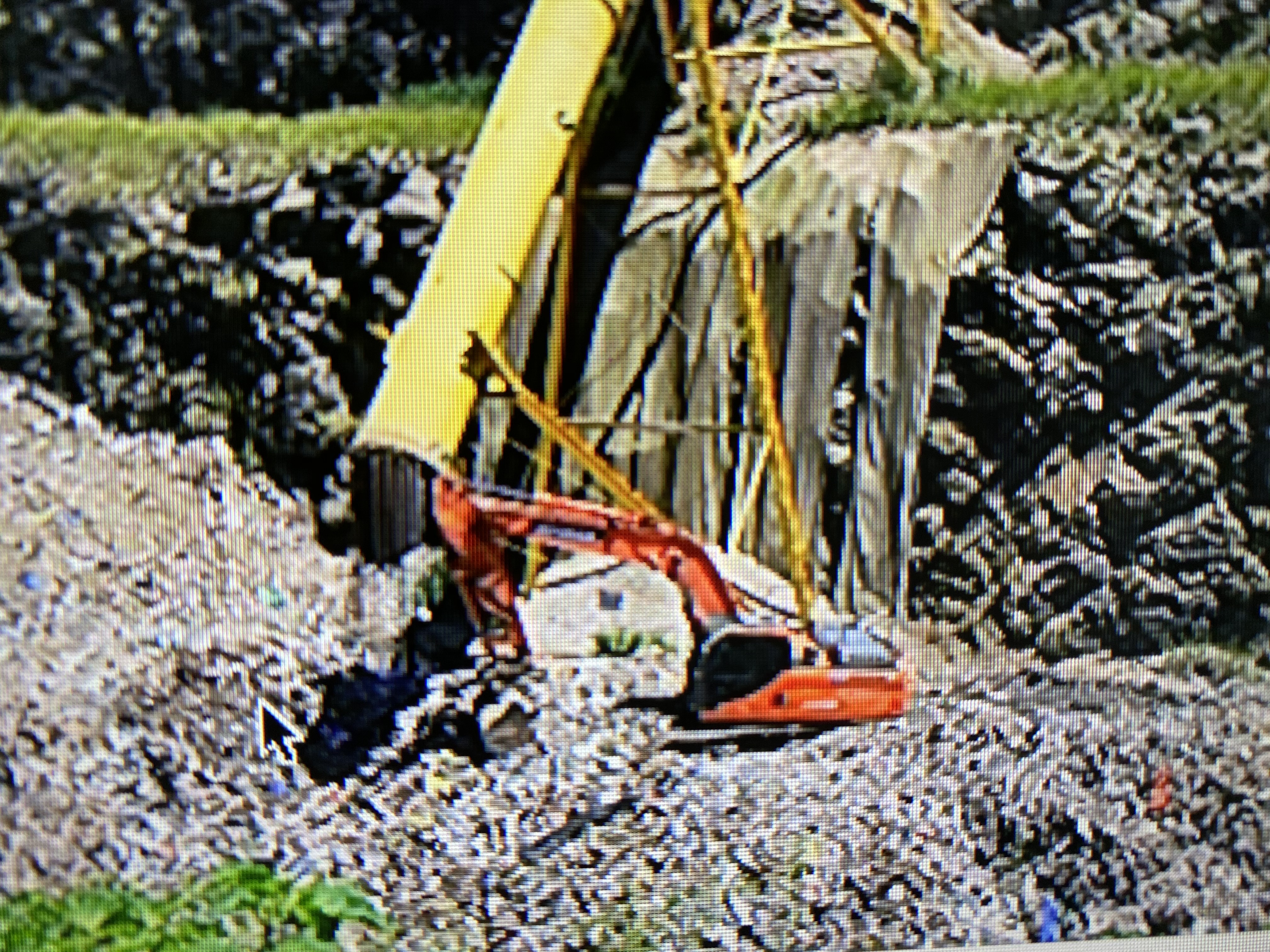 Screenshot from Audit report of exposed waste at the bottom of the chute.
According to the EPA website, this was the only regulatory on-site audit to have been carried out between when the site opened in 2013 and the 2018 audit. This was the period when Barry Buffier was the CEO of the EPA. He resigned from the EPA shortly after _Four Corner_s broadcast Trashed an investigation into the regulation of the waste industry. Buffier was then invited to join the Board of Bingo, where he was put in charge of the 'Zero Harm Committee'. Bingo's spokesperson told me that the Zero Harm Committee supervised the corrective actions that followed the audit.
This means that EPA employees responsible for negotiating and approving follow-up actions with Bingo were dealing with their former boss Barry Buffier. It's an example of what is called 'revolving door' politics, in which public employees and politicians turn their public knowledge and influence to the interests of private companies. This does not mean that conscientious people do not work at the EPA but it does raise questions about whether the upper echelons of the EPA are too busy keeping industry players happy to hold them accountable to environmental standards.
A spokesperson for the EPA said, "All actions required as part of the 2019 audit were addressed." There is no public record to confirm this. The EPA says it has undertaken "11 inspections of the site and 35 odour surveys in the area since March 2019 taking into account COVID-19 NSW Government restrictions in 2020".
In response to questions, the EPA described the purpose of its audits as working towards the goal of "best practice". The objective is to maintain the "integrity of the regulatory systems", improving compliance and ensuring the EPA's activities are "open and transparent". The latter objective is partially fulfilled by the publication of the audit but given the lack of information about follow-up and the number of problems identified in this audit, one is left wondering about the integrity of the whole regulation system. 'Best practice' is a worthy goal but basic compliance with licensing conditions would be a good start.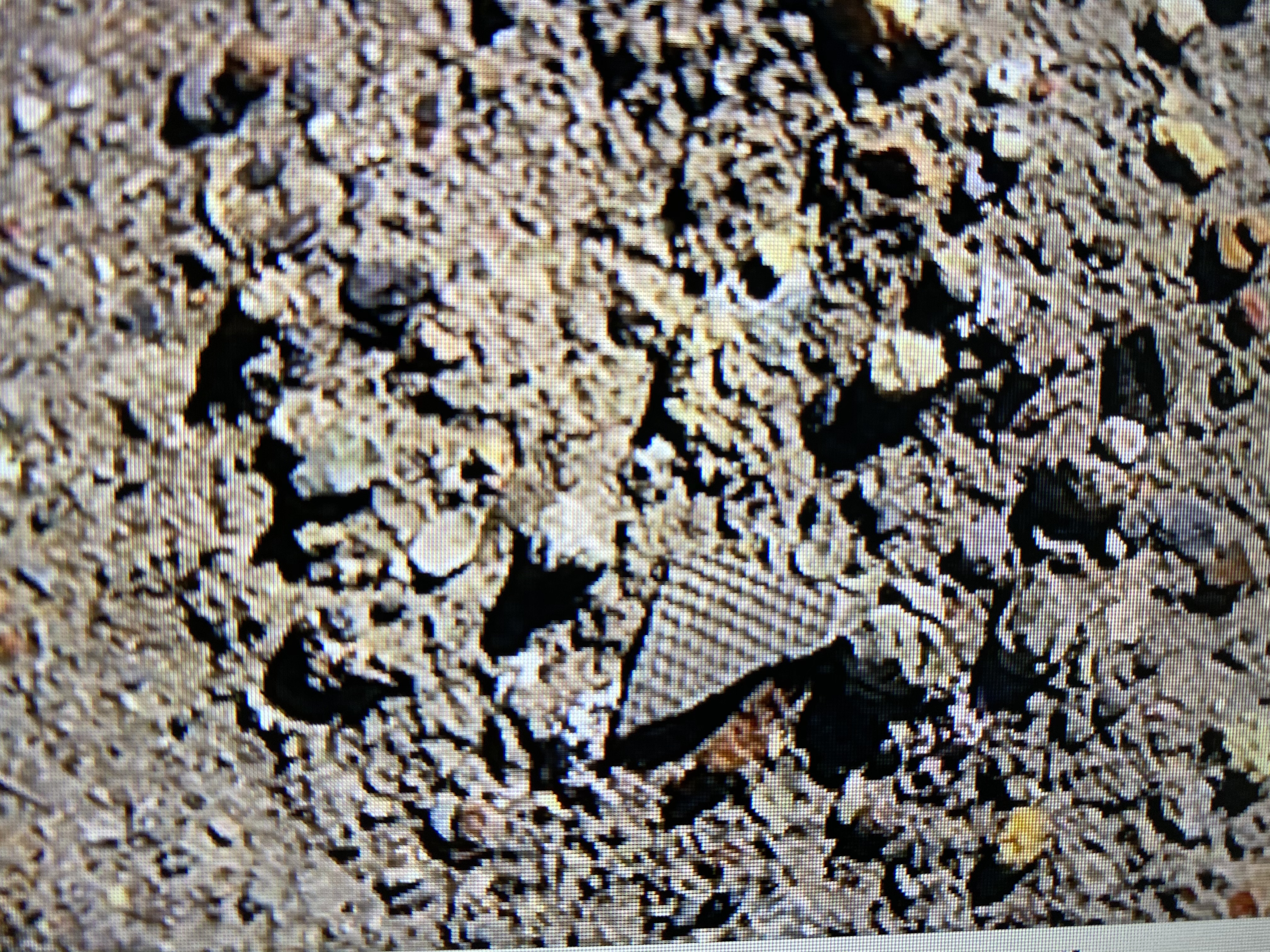 Screenshot from audit report of exposed asbestos which auditors found at landfill in 2018
Bingo's failure to comply with monitoring requirements
Under its licence, Bingo is required to file an annual compliance report by May 2 each year. Under an agreement with industry, the EPA treats this annual reports as 'commercial in confidence' but it does publish a summary of non compliance. These reports provide further evidence of problems with the regulation of the Eastern Creek landfill.
Bingo's 2019/2020 report was filed eight months late. When the summary was finally published it revealed 33 separate monitoring gaps including ones involving the level of leachate (contaminated liquid), standing water and groundwater. Bingo was required to take action to fix these problems. But did they?
Bingo did file its annual report on time this year but no information about it is available yet.
Community lacks confidence in the EPA
It's now 10 weeks since the odours first started plaguing residents. As the EPA's measures have failed to fix the odours, community confidence in the EPA has plummeted to an all-time low. Even if they are now doing their best to fix the situation , serious questions remain about the regulation of the landfill before this latest crisis.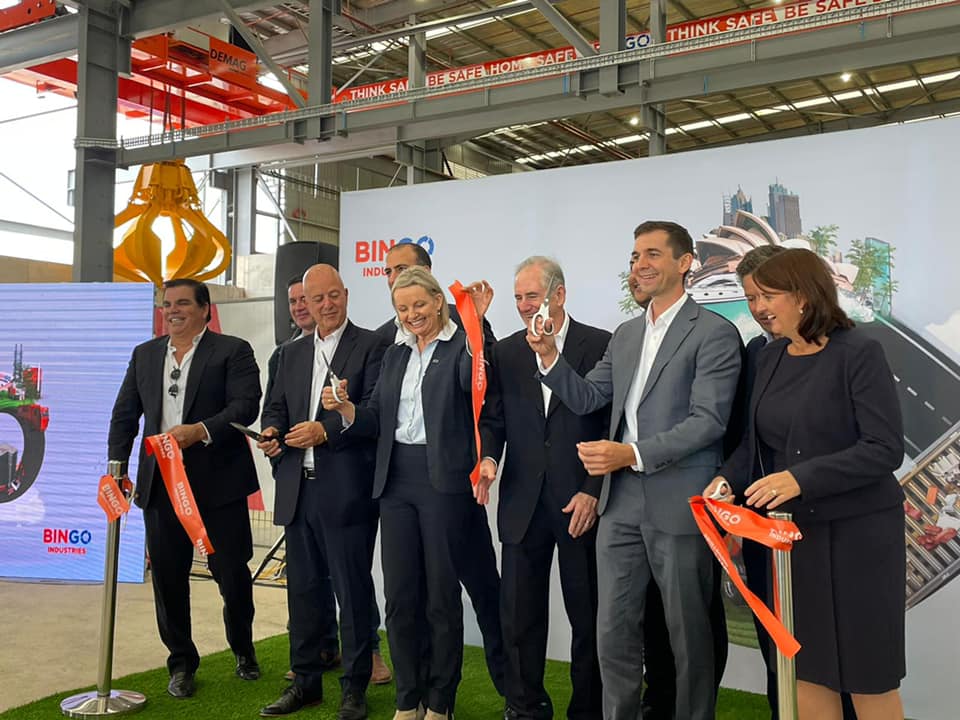 Celebratory ribbon cutting at Bingo
New EPA CEO Tracey Mackey recently attended the opening of Bingo's vast recycling plant. Residents suffering the odours expressed dismay. Federal Shadow Minister for Energy Chris Bowen described this as a grave error of judgement. So I asked the EPA if Mackey
"was aware of the hundreds of complaints and the Clean Up notice issued against Bingo, when she agreed to be part of the 'cutting the ribbon ceremony' at the Facility? If so, what consideration did she give to a) promoting Bingo by helping 'cut a ribbon' and b) allowing herself to be quoted promoting a government grant to Bingo at a time when the company was causing harm to thousands of residents? Does she now agree that these actions could be perceived to erode community trust in the EPA? ( Would she like to make any further comment on this issue?
In reply, the EPA spokesperson said, "the invitation was accepted as is normal business practice, representing the NSW Government and infrastructure grant funding".
Could this be part of the problem? Politicians hobnobbing with industry executives even when they are harming the community is just 'normal' practice. Bingo's industry grant came from the Environment Trust that is funded by industry levies. Late last year, a NSW Auditor's report found although the grant program was beneficial overall, industry drivers were perhaps too influential in the allocation of funds.
The same influences are at work in Federal parliament. Last week, Melissa McIntosh, the local Liberal MP who represents Penrith in Western Sydney, asked a 'dorothy-dixer' that gave the Minister for Environment Sussan Ley an opportunity to boast about her recent visit to Eastern Creek where she joined the EPA CEO Mackey and Bingo executives to cut for the ribbon-cutting ceremony of the $100 million plant. Any excess waste from the recycling plant will also be sent to landfill. This means that the landfill is now approved to take more than 300,000 more tons a year than it was previously. Ley's boast led Shadow Minister for Energy Chris Bowen, who declined an invitation to the launch, to call out, "Really?" For that he was ejected from parliament.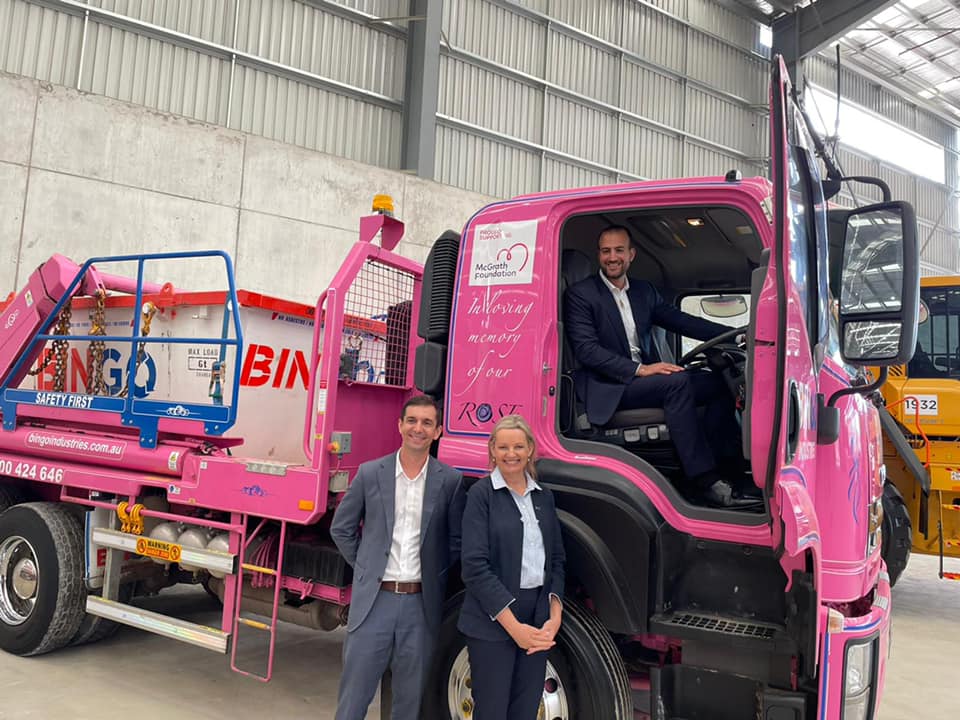 Minister for Environment Sussan Ley promoting Bingo with company executives recently
Later Bowen made a speech in parliament in which he was scathing about Bingo's performance and said that he would accept an invitation to visit the facility but only after the odour problem was solved - and then only with community representatives.
While recycling does have many benefits, there are serious questions about whether such a rapid expansion of waste facilities so close to heavily settled suburbs is good social or environmental policy.
What is causing the odour?
This is the question that urgently needs to be answered.
Bingo is only licensed to receive 'non-putrescible' waste including demolition, construction and road construction waste. It has contracts with WestConnex to take tunnel waste. It can take paper, timber, wood waste and garden waste which decay naturally in a landfill over time from bacteria activity. It is not allowed to take food or medical waste.
'Non-putrescible' waste produces gases, generally in the range of 50% methane and 50% carbon dioxide, both odourless. There can be small traces of other gases such as hydrogen sulphide (rotten egg gas) but such quantities should not be causing these serious odour problems.
Although Bingo denies it, residents have been reporting hydrogen sulphide odours since at least early last, but the situation has been far worse in the last ten weeks. It is against both the law and its licence conditions for Bingo to emit these odours. Something has clearly gone very wrong.
Bingo continues to blame the March rains, but although moisture may exacerbate the problem it does not cause it.
I asked the EPA what it regarded as the cause of the odour. It sent me links to details of how waste is classified. (If you want to know more, I have included them at the bottom of this post.) This information convinced me that the classification is indeed a tricky problem and is also heavily dependent on the honesty of those generating and receiving the waste. The EPA then added this sentence: Where this waste decay "occurs in the presence of gypsum, eg from plasterboard (Gyprock), more hydrogen sulphide gas can be produced".
This could scarcely be regarded as an answer to my question but it did seem to be a hint or a clue.
The EPA regards Gypsum or plasterboard as non-putrescible waste but in the light of up-to-date waste practice, should it?
I asked Community Environmental Monitor (CEM) Research Director and environmental scientist Charlie Pierce what he thought about the role that gypsum might play. He replied,
"Moderate amounts of gypsum by itself should not be a significant issue. It requires a carbon source like putrescible waste and anaerobic conditions to generate hydrogen sulphide. I guess the fact that there is a hydrogen sulphide problem suggests gypsum should be regulated especially at the Bingo landfill. NSW EPA could control the amount of gypsum going to landfill. They could change the Waste Classification guidelines by removing plasterboard as an identified non-putrescible waste, remove all waste levies on gypsum to promote reuse and modify the POEO licences. In the US it is often recycled or used as a soil amendment for agriculture,"
Pierce's reply led me to explore the issue of gypsum more deeply.
My research using the Dow Jones Factiva database did show that gypsum has become a problem in landfills. For that reason UK regulators have recently stipulated that it must be buried in separate cells in landfills. It has also been a problem in landfills in Florida.
If I can quickly find out this much information about gypsum, we can be sure that Bingo's waste engineers would be very well aware of the potential problem. According to the guidelines sent to me by the EPA, if Bingo were in any doubt that H2S was being emitted by gypsum, it should have declined to accept the material because it has an overriding legal obligation not to emit odours. If Bingo were aware but did not take action to prevent the odours by excluding gypsum waste or any other substance that could be causing odours, Bingo could be prosecuted by the EPA.
Gypsum may not be the problem but given international experience, the EPA should be reviewing its licences to consider whether it should remove gypsum from landfills licensed to accept general (non-putrescible) waste.
None of this helps the residents who are stuck with the odour problem. The EPA should come clean and share the information that they have with the community - instead of having secret meetings with Bingo from which a major stakeholder Blacktown Council was excluded. It's not enough for the EPA to tell the community what actions they are taking. They need to be open and explain the findings that have led them to take action.
The failure of the EPA to be open about its investigations reinforces the impression that the relationship between Bingo, its directors and Liberal party politicians is too close.
Is regulation controlling practice or practice influencing regulation?
In my previous story, I commented on the process in which regulation tends to accommodate company practice. A reading of the audit report confirmed this.
For example, at the time of the audit, Dial -a-Dump was licensed to operate from 8 am. When the auditor turned up at 8 am, there were scores of trucks already inside the landfill. Truck drivers had been able to enter the property to dump their loads from 6.30 am. This included many WestConnex trucks. At this stage, WestConnex was still controlled by the NSW government so one could expect that at least its trucks would comply with government licensing requirements.
You might also expect that this would be regarded as a major breach of the licence and the company would be pulled into line. Instead the opposite happened. As I have previously reported, the landfill license was changed to allow 24 hour operations last year.
Another surprising example is the regulation around the type of cover that is used to keep the waste in place and keep some moisture out. Conventionally, landfill cover is virgin soil but Dial-a-Dump and other companies decided they preferred to use a cheaper alternative cover called Concover. The EPA had reservations about Concover and it was not allowed to be used under the landfill licence. Some experts argue that Concover, which is a type of spray, is not as adequate as virgin soil as it can break down. When the audit inspectors discovered that Concover was in use, it reported:
The licensee has continuously used the alternative cover material since the trial ending in December 2013 without obtaining formal approval from the EPA. Further, even after being informed that the licensee was contravening licence requirements by using an unapproved alternative cover material, the auditors observed, Concover being sprayed onto the waste at the end of the day's operation on the day of the audit inspection
The audit also found that the cover was not as thick as required. But instead of prosecuting the company, the EPA simply approved the company's application to vary the licence. The EPA has now retracted that licence condition and has again required the landfill to use virgin soil.
Extra Background
If you want to research further, here is some more background information.
How is waste classified?
Background - Permitted waste
The wastes permitted at the landfill (including general solid waste) are listed in the table under Condition L.3 of the licence; available on the EPA's public register https://apps.epa.nsw.gov.au/prpoeoapp/ViewPOEOLicence.aspx?DOCID=215197&SYSUID=1&LICID=13426.
Step 3 of the EPA's Waste Classification Guidelines lists the waste types that are pre-classified as general solid waste (non-putrescible). (https://www.epa.nsw.gov.au/~/media/EPA/Corporate%20Site/resources/wasteregulation/140796-classify-waste.ashx) Step 6 lists the additional tests and requirements for wastes that are not pre-classified.
How is an offensive odour defined?
Offensive odour is defined in section 129 of the Protection of the Environment Operations Act 1997. Essentially it is an odour of a character, duration or time of occurrence that could harm, or unreasonably interfere with the comfort of, a neighbouring resident. Odours are commonly generated at landfills receiving organic waste because of decomposition of these wastes under anaerobic conditions. The primary odorous compounds are mercaptans, hydrogen sulphide and various complex organic compounds. Odour production from landfills is variable, depending on the type of waste, its moisture content, the extent of its decomposition, the type and extent of cover material, whether or not landfill gas collection is installed, the terrain, the temperature, and the wind conditions.