This is my first report on the unhealthy odours being created by Bingo Industries in Western Sydney. My second report can be found here.
The ex-head of the NSW Environment Protection Authority (EPA) Barry Buffier is on the Board of waste company Bingo that was ordered to clean up its landfill site at Eastern Creek last week.The company has also been accused recently of having a poor safety record in Victoria.
Barry Buffier, who was both Chairperson and CEO of the EPA from 2013 to until the end of 2017, when he resigned shortly after ABC's Four Corners broadcast an expose on the waste industry. Only six months later, in July 2018, he became a non-executive Director of Bingo. At the time, the company said it would benefit from his experience in regulating industry (more on Buffier below).
The Four Corners program exposed Bingo's practice of trucking waste to Queensland to avoid a NSW government levy of $141 per tonne of landfill. It also covered allegations of waste dumping at Mangrove Mountain near the Hawkesbury River by a company owned by the Tartak family company. Daniel Tartak is Managing Director of Bingo, in which he and his family have major shareholdings. Tartak denied any wrongdoing when interviewed by Four Corners.
Bingo ordered to clean up site
A Bingo media spokesperson Chris Gordon said that the company has "massively improved its safety" in recent years and that as Chair of the Board's 'Zero Harm' Committee, Buffier had been closely involved in this improvement.
However, recent events suggest that there is still much more to be done.
In fact, for at least the last six weeks, thousands of Western Sydney residents have been living with unhealthy odours emitted from Bingo's waste facilities at Eastern Creek.
On April 23rd, NSW EPA finally issued a 'Clean Up notice' ordering Bingo to fix cracked leachate pipes at its Eastern Creek facility and to cover the landfill surface with lime. These problems were identified during an EPA inspection on April 14th..
The Clean-Up notice gave Bingo until April 27th to take steps to stop the odours. But by April 30th, very bad odours affecting many residents continued. Local MP Edmund Atalla wrote to the NSW Minister for Environment Matt Kean yesterday asking for his support or the EPA to take legal action against Bingo.
Since March, the EPA has received more than 400 complaints about 'rotten egg gas odours' coming from the site. It's a breach of Section 129 of the NSW Protection of the Environment Operations Act to emit any offensive odour which is defined as one that "interferes unreasonably with (or is likely to interfere unreasonably with) the comfort or repose" of people outside the premises. This applies to Bingo's licence to operate the premises.
Residents say they've previously experienced bad odours, but they've occurred more often during the last 18 months. Since March they've been particularly intense and frequent, causing asthma, nausea, headaches, sleeplessness and an inability to spend time outdoors. The community is left in a state of uncertainty about the health risks because they do not have air monitoring results and the impacts of 'rotten egg gas' or hydrogen sulphide will vary according to the vulnerability of the individual and the length of exposure. ( Here is a fact sheet from the US EPA.) It is also possible that there are other pollutants that are impacting on residents. Workers can also be affected but at lower levels can become used to the smell and not notice it.
After waiting weeks for the EPA to provide definite information about the source of the odours and take action to stop them, residents contacted the media. It didn't take long for 2GB and Channel 7 to jump on the story about shocking hydrogen sulphide odours causing severe distress for thousands of residents in Minchinbury, Erskine Park and nearby suburbs including Rooty Hill.
EPA were already investigating, but no doubt the publicity accelerated the pressure to take decisive action.
Blacktown Council identifies Bingo as culprit
It's unclear why it took so long for Bingo to be identified as the source of the problem. Residents advised Blacktown Council of this problem on March 23, and one of their staff members identified Bingo as the source on that same day. Yet it took the EPA nearly another month before it confirmed Bingo as the source. It is also not clear how seriously Bingo took the issue. If they were concerned they didn't communicate that to residents.
I asked Bingo's media spokesperson Chris Gordon about why the company hadn't acted sooner since surely staff were aware of the odours. He told me that workers on the site can adjust to the odours and that when he visited the site after the 2GB stories, he couldn't smell anything.
Residents are understandably frustrated. No Incinerator for Western Sydney, a group with more than 2000 followers, posted, "it took the EPA a month, and a LOT of media attention to finally come to the same conclusion (as Blacktown Council).This is what the EPA is supposed to be doing, yet they can't until they are backed into a media corner. It really doesn't give us much faith in the 'Protection' part of the EPA."
According to the Clean-Up notice, two EPA offices visited the site on April 14th and identified a strong 'rotten egg gas' hydrogen sulphide (H2S) odour in two locations within the landfill. These were the sites of leachate risers and the leachate vent pipe.' Leachate is contaminated liquid that drains downward in landfill sites. The EPA identified the leachate system as one of the potential sources of the odour. The EPA officers requested Bingo to come up with "short, intermediate and long-term actions to prevent or minimise the odour impacts from the Premises on the community."
On the evening of 20 April 2021, an EPA officer conducted a joint odour survey with an officer of Blacktown City Council and again identified very strong 'rotten egg gas' odour mixed with strong organic waste odour.
But it took another week for the EPA to actually issue the Clean-Up notice requiring Bingo to fill cracks in leachate pipes and vents, cover the site with lime, supply a draft independent report on the odours to the EPA and investigate if there are any other decomposing chemical compounds on the site causing odours.
It is an offence against the Act not to comply with a clean-up notice unless you have a reasonable excuse. The company may try to use the seasonal autumn still weather after a wetter summer as an excuse but these are events that can be expected to occur in the future : regulation and good management of waste is designed to prevent public health risks at all times. As one resident wrote on Facebook, "So why if the EPA knows that on certain seasons it traps smells close to the ground, was this company allowed to make the mine a tip so very close to Minchinbury? Smells like corruption on the government level!"
This week, the NSW EPA has written to some residents stating that they regard the issue as a "major one" which it is taking "very seriously". The Blacktown Mayor Tony Bleasdale described the 'clean-up' notice as a huge win for residents.
But on Thursday evening April 30th, residents in streets in Minchinbury were still suffering from extremely bad odours leading some to report breathing difficulties and sore eyes. These symptoms are similar to symptoms experienced in St Peters that led to convictions against CPB Contractors.
Bingo landfill fire in early 2020
For much of the summer of 2019/2020, Western Sydney suffered the health impacts of heat and very poor air quality due to bushfires. This situation became even more distressing when the landfill caught fire. There was a "toxic, chemical smell" believed to be linked to the blaze. The Daily Telegraph reported that residents were worried about potential health impacts of the fumes, including breathing difficulties and asthma attacks. Bingo did accept that this was a 'serious environmental incident'.
NSW Planning approved Bingo's expansion plans in 2020.
One factor that could expose residents to health risks from odours is more waste being dumped in the landfill. This not only adds to emissions from the sheer volume of waste but also to the extent of surface land that needs to be capped.
Since 2018, Bingo has been wanting to increase the limits on the annual waste it can receive from 700,000 to 1,000,000 tonnes, extend its hours of operation to 24 hours and lower the noise limits. This was the sixth time the owner had applied to NSW DPIE to vary its license since it was first approved in 2009.
Blacktown city council, scores of residents and nearby businesses objected to the proposal to allow the company to increase the amount of waste it can dump each year. They were concerned about air quality, noise, odours, dust, fire risk and even more diesel trucks in the area. Due to the number of objections, the NSW Planning Department (DPIE) that would have otherwise approved the application was legally required to refer the application to an Independent Planning Commission panel.
A closer examination of how the Panel handled the application provides a glimpse into a flawed process that causes problems for many NSW communities.
Normally, the Panel would have given objectors a chance to appear in a public hearing. But after a year of delay, the application came up during COVID and the public hearing was cancelled. Instead of organising a zoom hearing, the Panel held no hearing at all. All objectors were allowed to do was send email comments. In the height of the pandemic, many residents failed to take up on the opportunity but nevertheless the objections that were enough to prompt caution and concern.
A resident wrote,
I object to the extended hours and as I live very close to the site also object to the increase in capacity. The recent fire at Bingo resulted in debris in my pool and foul air for days. This is not acceptable in a residential area. We have a school close and also Prospect Reservoir which can be used as a water supply.
Lite n' Easy food group objected and so did nearby landowner Jacfin Pty Ltd, which wrote detailed objections including providing independent expert evidence to support its argument that the air quality and odour assessment was based on false assumptions and seriously flawed.
In considering the objections, one of the issues that the panel had to consider was 'public interest'. In their report to the panel, the DPIE didn't even include the 'pubic interest' consideration.
Bingo's justification for overriding the concerns was that expansion would "achieve delivery of the New South Wales government waste goals" by allowing its landfill and nearby recycling plant to respond to "market demand" and support the NSW "resource recovery rate".
The Panel agreed with the company and in its statement of reasons wrote that the "department had engaged with the community and provided them with the opportunity to make submissions" and so, "sufficient opportunity for community participation has been achieved." The Panel found community concerns could be addressed in conditions attached to its approval. ( Author: I have marked these words in bold because they are evidence of a much bigger issue to do with the exclusion of community from any meaningful contribution to decision-making.)
The Panel did acknowledge that the air quality predictions for PM 2.5 (fine particulate matter) concentrations would exceed those set by the DPIE but accepted the company's argument that background concentrations (the air without the new project) in the area already exceed these criteria and the "contribution would be minimal" on top of nearby major motorways and the surrounding industry emissions.
In the face of this evidence, the Panel proceeded to approve the expansion. It relied on planning conditions to manage the situation. No mention was made of the fact that researchers have found that there are no safe levels of PM 2.5 which is known to be linked to cancer and heart disease and that risks increase as levels rise.
The same sort of argument was applied to noise. It was acknowledged that with more trucks, noise would become worse but that the noise levels already exceeded those originally approved. The Department's argument that more recent industrial developments and the nearby M4 and M7 motorways meant that background noise levels already exceeded noise limits was accepted and would only be marginally worse. This effectively means that as far as the Panel and the Department are concerned, if communities are already experiencing unhealthy conditions, it doesn't matter if they get a bit worse.
The Panel did acknowledge that increasing the size of the landfill could lead to problems, especially in times of rain, but was "ultimately satisfied that the system had enough capacity" to handle the additional leachate predicted as a result of the expansion. This calculation appears to be wrong, at least in the way the landfill is being managed by Bingo and the EPA.
Bingo is about to open a big new recycling centre next to the landfill. When I asked, perhaps naively, why more landfill was needed if the aim was recycling, Bingo spokesperson Chris Gordon explained that more recycling means more landfill of those parts of waste that can't be processed. These, including asbestos, will all go to the landfill. (Author: See Update at the end of article.)
One of the conditions imposed by the Panel was that by six months after the approval, Bingo needed to develop a full air quality management plan and complete an independent air quality audit. These needed to be approved by the Secretary of DPIE. The approval was signed in April 2020 so those reports were due at the latest by November 2020. This week I asked the DPIE if the Secretary had received the reports and if I could read a copy of them. (Late on Friday, I was informed by the department that the reports were still in development so this approval condition would seem to have been breached. I am further investigating this and will report further soon.)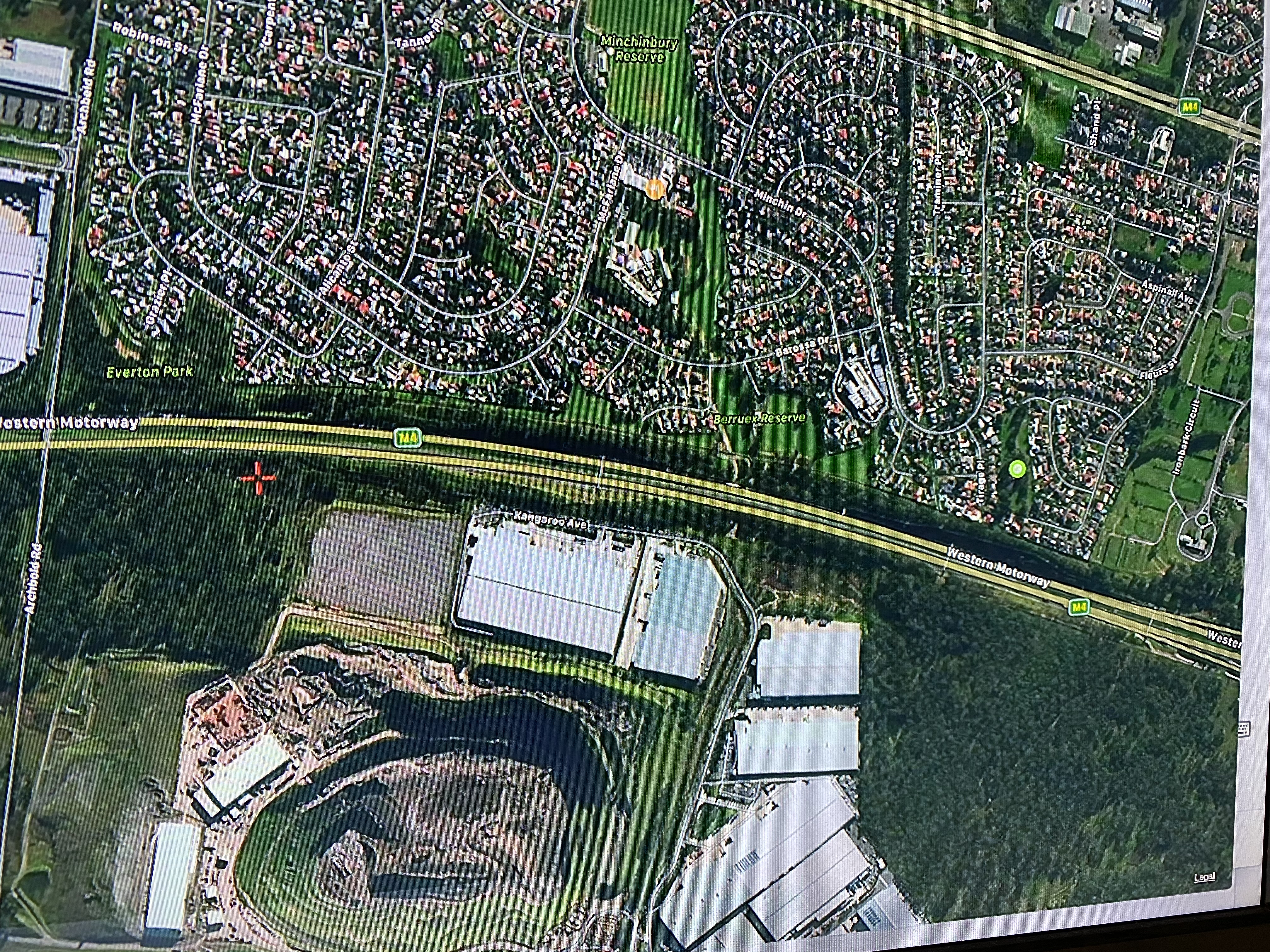 This photo was taken some time ago but shows the thousands of residents in just one direction across the M4 from the Eastern Creek Facility. Since it was taken more approvals for expansion have been granted.
Incinerators loom
The odours add to anxiety that many residents feel about efforts by businessman Ian Malouf to open a 'Waste to Energy' facility in the same area. International waste giant Cleanaway is also seeking approval for a similar facility nearby.
Malouf's major waste company Dial-A-Dump owned the Eastern Creek landfill site until it was sold to Bingo in 2019 for $489 million. Malouf remains a major shareholder of Bingo and is on its Board. But his proposed incinerator project was not sold to Bingo.
In 2019, Malouf was refused permission by the Independent Planning Commission to build the facility near the Bingo landfill. He has appealed and the NSW Land and Environment Court has scheduled a conciliation conference in May.
Waste to Energy is a very controversial technology that burns plastics to produce energy, toxic residue and emissions. Dangerous pollutants emitted by these incinerators are one of the main concerns of residents who have been campaigning against the incinerator for years.
Malouf: Polluter with a long record
Malouf's record of asbestos and other waste violations goes back as far back as 2002. Most of these violations are to do with his management of his Dial-a-Dump site in St Peters.
SMH journalists Natalie O'Brien and Heath Aston exposed his record as a polluter in 2011. Between 2006 and 2011, the EPA imposed five Clean-Up notices on Dial-a-Dump. When Interviewed, Malouf did not deny the pollution problems but blamed them on employees who didn't follow instructions. He was directed to clean-up a large amount of asbestos dumped on a site by a small company owned by his wife Larissa Malouf. ( Asbestos is a hazardous mineral. If inhaled, fibres are trapped in the body and can later cause an aggressive cancer called mesothelioma and other forms of cancer and lung disease.)
The then LNP Premier Barry Farrell acknowledged that he was aware of these violations when he agreed to open Malouf's new Dial-a -Dump (now Bingo) landfill at a $500,000 celebration that featured 600 guests, acrobats, fireworks and a lion cub in late 2011. Malouf, boasted the site, known as the Genesis Facility, would be the biggest landfill in the Southern Hemisphere. O'Farrell and Malouf met at a $5000 a head fundraiser in 2010. Ian Malouf and his family have been Liberal Party donors for years.
The St Peters Dial-a-Dump site was compulsorily acquired for the WestConnex St Peters' interchange in 2014. Malouf left the site immediately, leaving behind a massive amount of asbestos waste.
WestConnex then hired contractors to trucked the asbestos out to landfills in Eastern Creek and elsewhere. Cathy Peters and I investigated this in 2015 for New Matilda.
Around the same time as the Independent Planning Commission knocked back his Waste to Energy facility, Dial-a-Dump was prosecuted and fined $23,000 in Blacktown local court for leaving exposed asbestos on the Eastern Creek landfill.
Bingo told me this week, that asbestos waste that cannot be processed by its new recycling facility will continue to go to the landfill.
Other Bingo environment breaches
Bingo, as well as Dial-a-Dump, has a record of breaches of environmental law.
In 2019, it was successfully prosecuted by the EPA for exceeding licence waste limits at its facilities at Mortdale and Minto.
Bingo agreed that it had accepted more waste at its Mortdale facility than it was allowed by its licence. It was convicted, fined and ordered to pay the EPA's legal costs but the penalties were less than the profits that were made out of taking the extra waste.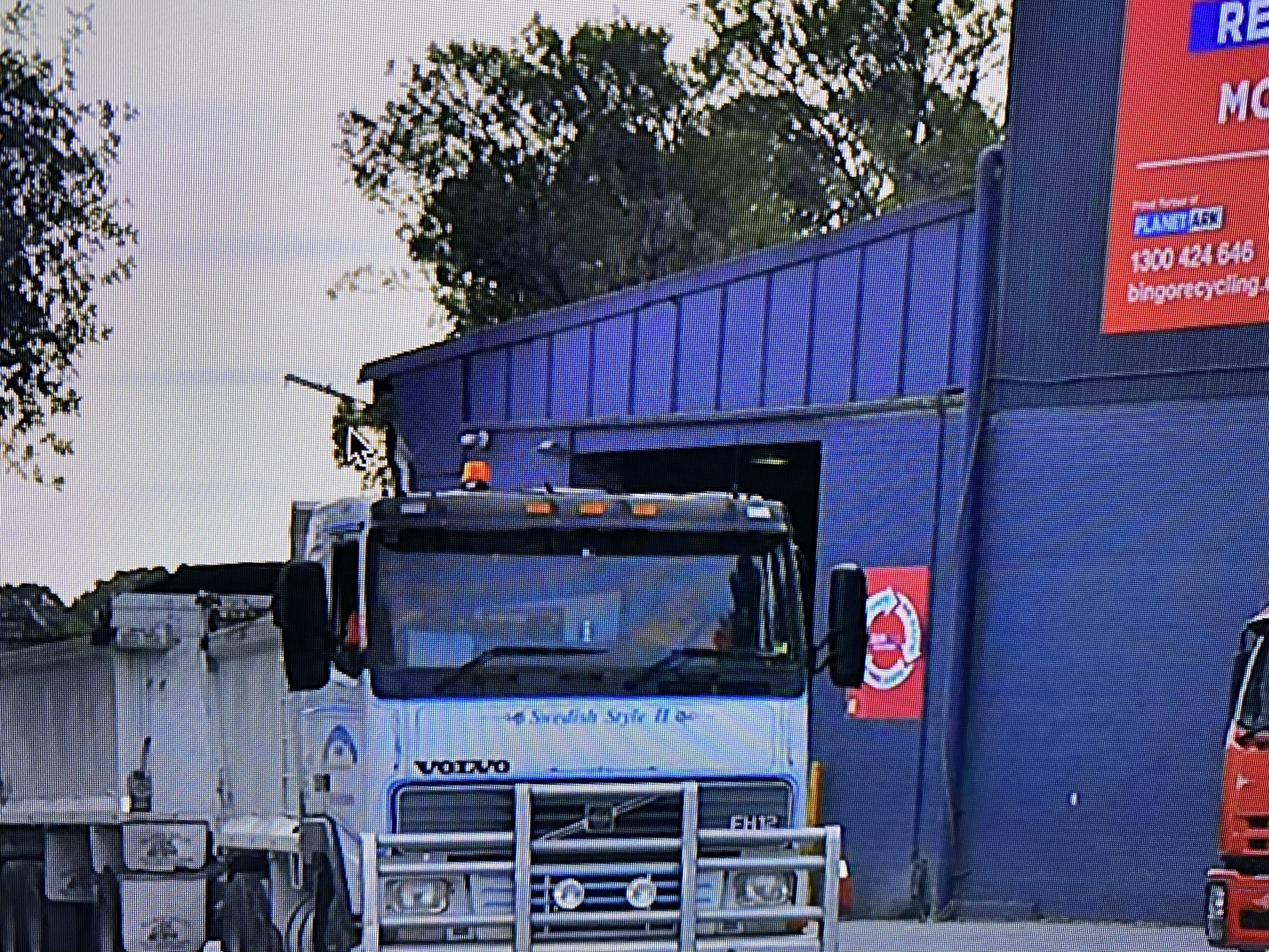 Photo showing Bingo trucks arriving at the Mortdale depot.
In January 2020, Bingo was again fined $100,000 for breaching its license at Minto in Southwest Sydney by exceeding the amount of waste that it was permitted to receive in 12 months in 2017 by five times the authorised amount. The court found "that Minto recycling profited from the breach by an amount that was "undoubtably substantial and a direct result of the defendants offending conduct". The benefit was approximately $250,000
In court in 2018, Bingo (which was owned by Dial-a-Dump in 2017) claimed it had an "understanding with the EPA which allowed it to accept the excess waste".
As the Illawarra Mercury reported at the time if an "understanding existed, it will be an extraordinary departure from the EPA's role" of regulating licenses.
These convictions raise serious questions about whether Bingo and other waste companies strike a balance between occasional penalties for potentially breaking the law and churning as much volume through their sites as possible.
Will Bingo go private - and less transparent?
Bingo is currently a public company which means that it is required to make public its financial accounts and a detailed annual report. This week, the Australian Financial Review reported that Macquarie Infrastructure and Real Assets (MIRA) are believed to be on the last leg of a more than $2 billion deal to buy Bingo, with the final details in the process of being ironed out. In typical silo-type business reporting, there was no mention of the safety and environmental problems that the company is experiencing in Sydney and Melbourne.
MIRA is a huge global company that manages infrastructure assets to produce profits for its shareholders. It is likely to take the company private, which means that even less information will be available than currently.
In February, Bingo's CEO Daniel Tartak was quoted as saying that he wants to remain CEO whoever is the owner. Tartak, whose family bought the small company in 2005, currently holds nearly 20% of the company.
Last year, the COVID crisis placed pressures on the company, which reported a 58.5% decline in net profit after tax to $15.8 million for the six months ended December 31, 2020. Like all companies, the company's management is under pressure to increase the profit margin and minimise costs.
Between them the Tartak and Malouf families own 34% of Bingo. Where their stakes end up in the takeover by MIRA remains to be seen.
I asked the Bingo media spokesperson Chris Graham whether MIRA was aware of the current situation at Minchinbury. He told me that they could be expected to know because the information was 'public' and said he was "sure' that they do know.
Safety Concerns in Victoria
Meanwhile The Age has reported that Bingo is under scrutiny "after a man died when he was crushed by a truck in Kew in Melbourne in January 2019. Another man died and one was seriously injured at Bingo's Genesis Eastern Creek landfill site in in Sydney in May 2019 and a man was hospitalised in March this year after being injured at Bingo's West Melbourne site."
The Australian Workers Union (AWU) has requested a Worksafe investigation of Bingo's West Melbourne site due to numerous health and safety issues from dust and silica exposure. AWU metro organiser Aran Mylvaganam told The Age, "I have made multiple visits to Bingo over the last 12 months, there are numerous safety breaches we have identified and asked Bingo to rectify and they haven't done anything about it," he said.
With the takeover imminent, a Bingo spokesman said last week that the company's investment in health and safety continued to increase and was a priority. This would seem to suggest that Bingo acknowledges that it has safety issues despite claiming to have an 'industry-leading' safety record.
Buffier Bingo holdings
Buffier's appointment to Bingo's Board was an outstanding example of what is known as 'revolving door' politics.
In 2018, Buffier told the company's AGM that he was 'honoured' to join the Board and that he saw goals of the  EPA and Bingo as being "very closely aligned". He became the chair of the 'Zero Harm' committee.
He has received $237,219 in Director's fees in 2019 and 2020. In addition, he now has a shareholding of 130,000 shares currently worth more than $500,000. He holds his shares through Grocane Pty. Ltd. a trustee company for the Buffier superannuation account.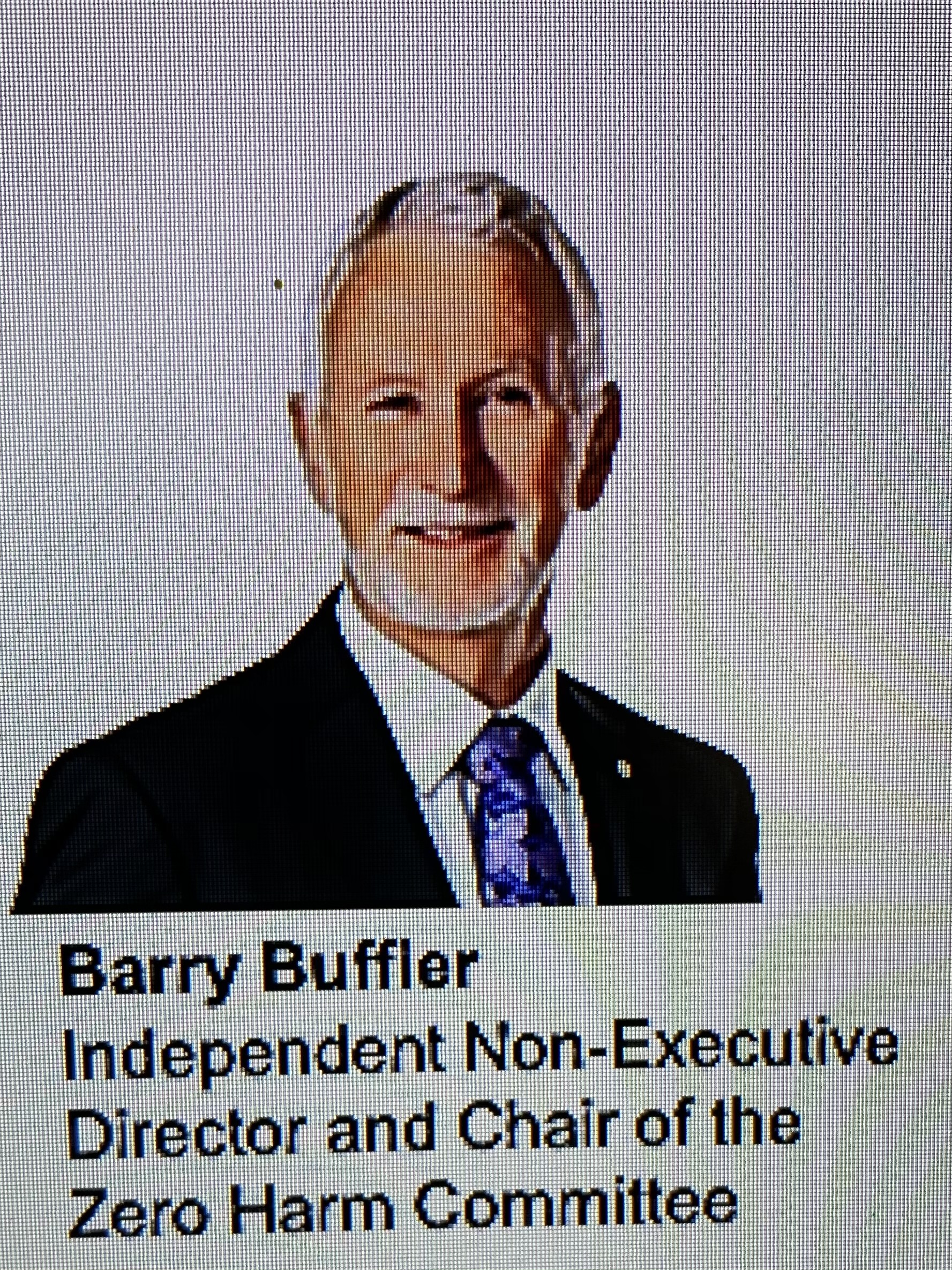 (Screenshot from Annual Report)
In 2018, Buffier defended his EPA record, claiming that he was very "proactive in forcing compliance with environmental legislation bearing in mind the limitations of resources at his disposal." Certainly the EPA has been starved of resources. But Fairfax media reported that during Buffier's time the EPA had struggled to deal with asbestos pollution. The EPA also adopted a policy of not declaring significant contamination of residential land, for fear of hurting property prices.
James Whelan of Environmental Justice Australia published an opinion piece in which he argued under Buffier's leadership the EPA had been known as "a toothless tiger captured by polluters and the corporations that harm the State's environment."
Update: Minister for Environment Sussan Ley and new NSW EPA CEO help open Bingo recycling centre on April 20th.
When I asked Bingo's media spokesperson Chris Graham earlier this week when the company's new industrial Recycling facility that will generate more waste for the landfill would be opened, he said that it would be soon. He didn't tell me that it was in just two days although he surely must have known. Maybe Bingo wasn't too keen on the community knowing that right under their eyes, the Federal Minister Sussan Ley and the new CEO of the EPA Tracy Mackey visited the site to help Daniel Tartak and Ian Malouf cut the ribbon on Friday morning.
Bigger picture - a postscript
I first met residents from Erskine Park shortly after I retired as the Professor of Journalism, where I had been involved in teaching and researching environmental journalism for years. At the time, I was researching the transport of asbestos from the old St Peters landfill in the Inner West to waste facilities in Sydney West. I knew that Ian Malouf, whose company controlled the site, had a long record of breaches in handling waste on the site when he was compulsorily acquired for Westconnex tollways.
I was contacted by a truck driver who was alarmed that he was expected to dump asbestos waste on open ground in Western Sydney, and I later attended a meeting of worried residents near Eastern Creek. He believed if he went public, he would be excluded from further WestConnex work.
In 2015, Cathy Peters and I again followed up the WestConnex issues with asbestos and their impact on Western Sydney for New Matilda.
I also attended a hearing at the Rooty Hill RSL when members of the community and Councillors eloquently presented the health impacts that they were already experiencing as reasons not to approve the Waste to Energy facility. On that occasion, they were successful but they are still fighting against an appeal.
Many Sydney communities feel overwhelmed by the stream of developments in their communities and powerless to deal with the endless stream of plans and policies that claim to enhance community involvement in planning but often erode it. People are often too busy to get involved. relying on a few who are already overburdened.
It is tempting to remain in our own little bubbles but in fact developments in one part of the city directly impact on other parts of the city. For example, residents in Bexley are now experiencing the impacts of more traffic on local roads since the very expensive but lightly trafficked WestConnex M8 was opened last year and the old M5 was tolled. Of course, their concerns were raised but ignored before approval. If you did deep down into reports, you find that local air quality and traffic were both predicted to worsen on these roads after the tollway opened - in other words, their concerns were deliberately discounted.
As a journalist, I worry about how the community can deal with these issues when there is little effective local journalism, especially after closures of outlets and sacking of many local reporters in 2020. The aim of my blog posts is to assist the community to get their message out, including to the rest of the media, and to uncover more information. If you know more, please send me a message by direct tweet, by Facebook Messenger, a Whats App message or an email. You can subscribe to my blog which is free. If anyone wants to republish the material, please contact me.
I will be continuing with my Christian Porter series soon. I am also close to publishing a story about 50 years of media coverage of First Nations' Deaths In Custody.
This story has been updated since first published.