Overpowering Bingo odours wake people at night
While many parts of Sydney were experiencing a relaxing Anzac Day, residents living near Bingo Industries' waste facility in Eastern Creek were once again awoken at night or trapped in their homes during the day by over-powering nauseating odours.
This is a story that deserves much more media attention than it is getting. Unfortunately serious local journalism has all but disappeared across vast swathes of Sydney. On top of that the Federal election is dominating media coverage, including with stories produced by 'gotcha' questions rather than ones that investigate how environmental and other issues affect communities.
If you follow my blog, you'll already know that these hydrogen sulphide gases emitted by Bingo have been a continuing problem for more than two years. You will also already know that it is illegal in NSW for waste facilities to emit odours. You can read the rest of my series here.
The giant Bingo waste facility, which was originally owned by Ian Malouf's Dial-A-Dump, opened in 2012. It was sold to Bingo in 2018 around the time that an EPA audit found multiple problems with the environmental management of the site. Last year, Bingo was taken over by Macquarie group which paid $2.3 billion for the company. Macquarie Asset Management is one of the biggest infrastructure management companies in the world and owns operations in 27 countries.
The odours over Easter were bad. But they were even worse over the Anzac Day weekend. Some residents have laid more than 15 formal complaints since early March 2022. On one day this week the odours were overpowering near the local Minchinbury Public school. Shortly before Anzac Day, I visited Minchinbury and spokes with approximately 20 residents, some of whom told me that they had developed skin irritations, breathing difficulties and anxiety since dealing with the odours.
On April 28th, an email was sent to residents who had recently made complaints. Sent by the 'EPA Stakeholder Engagement Team', it was an update on 'unpleasant odours' in the Minchinbury area'. (EPA is the NSW Environmental Protection Authority')
It read, "The EPA is aware that the odour issues were particularly bad over the ANZAC Day long weekend".
"We received more than 20 odour reports from residents. There were also numerous detections on our ( EPA's) hydrogen sulphide monitors around the Bingo facility and in the Minchinbury community. Some residents reported the odour as being worse than ever."
EPA officers inspected the Bingo site on April 26th and observed that work to stop gas escaping from the landfill – as required under an EPA Prevention Notice – was progressing. (The community is hoping that this work is more successful than the work that the EPA ordered Bingo to carry out last year, which has failed to eliminate the odours.)
However, officers found the odours were particularly strong around the leachate riser, an essential piece of landfill gas management infrastructure. They found there was a simple reason for this. Bingo contractors had not put "appropriate odour management controls in place".
EPA says Bingo's conduct is 'completely unacceptable'
EPA staff are very aware of how angry and cynical residents feel about their failure to effectively regulate the site. This perhaps explains their description of this latest situation as "completely unacceptable".
After inspecting the site, the EPA met with Bingo Chief Executive Chris Jeffrey and senior managers to "demand that this work immediately cease". A further meeting was held the following day at which the EPA officers asked senior Bingo staff to explain "why this work commenced over the holiday period and required immediate improvements to control odours from the leachate riser area." Unfortunately the EPA email failed to provide the community with the answer that Bingo gave in response to this question.
The EPA ordered that Bingo stop further work on the leachate riser until "any odour risks can be properly managed."
The EPA states that it will continue to inspect the site and to demand urgent work from Bingo if it is not satisfied that the waste company is rectifying the problem as fast as possible.
This is the first time that residents have been told that the EPA has used its powers to stop work. But even now it is not clear what conditions have to be met before the work starts again and why previous attempts to install wells that funnel the emissions to gas burners have not worked.
This underlines the flaws in 'stakeholder engagement' that fails to communicate transparently or frankly with community stakeholders.
Unanswered questions
There is a fuzziness in the EPA communications that leaves a key question unanswered:
Why is it that a landfill that is only licensed to take non-putrescible waste, which should not release large quantities of hydrogen sulphide as it decomposes, emits such terrible odours? Has illegal material being dumped? Bingo itself tends to put the whole issue down to rain - but rain itself would not cause this problem. There is water lying on open ground all over Sydney that does not cause odours.
Recently Bingo has again blamed the odours on the rain. It claims that the rain is causing capping of waste to be swept away and the landfill to flood. Methods of capping and the management of water are two critical issues in the effective management of waste. Previously Bingo was found to have been using a different capping material than the one that the EPA approved. It was also found to have poorly managed water on the site.
Bingo is installing more gas wells that pipe the gas to flares where it is burnt. Wells installed last year have not been sufficient to remove the odours. Although gas flares should help reduce the odours, they also emit methane and other gases. NSW Planning has now approved Bingo to install a permanent gas system. But none of this explains why the odours in this non-putrescible waste facility are so bad.
Climate scientists predict more intense rain events in the future
To the extent that the rain is an explanation, more intense rainfall has been predicted to occur more regularly as climate change continues. (You can read more about this on the Climate Council website.)
Why has Bingo not been prosecuted?
Bingo has been responsible for odours escaping the site on hundreds of days since April 2020. It is a breach of its licence to release odours. EPA investigators have collected affidavits from affected residents. The investigation began a year ago. EPA officers need EPA Board and senior management approval to launch a prosecution. Approval is only given if government lawyers advise that there are reasonable prospects of success. But in this case, there seems to be overwhelming evidence. In 2021 alone, there were hundreds of complaints. So why is it taking so long to begin proceedings?
(Three days after I published this story, the NSW EPA launched criminal proceedings against Bingo - see following story.)
EPA you failed us!
On April 28th, one resident responded to the EPA on the Neighbourhood Environmental Watch page:
" Your actions are not enough. After several similar incidents and years of odour issues, It is clear that BINGO INDUSTRIES need to be educated on odour management and are not responsible enough to manage such a business. These odour management controls are prerequisites for such a recycling facility, specifically one that is built close to residents. This business should stop operating until those controls are put in place and certified by a trusted regulatory body.

EPA, you failed us!"
Powerful players behind Bingo
I have previously reported on how the CEO of the EPA Barry Buffier joined the Board of Bingo when he retired from the environmental regulator. ( In my view, senior public regulators should not be employed by industry players in the same industry until at least several years after leaving their previous jobs.)
After Macquarie Infrastructure and Real Assets (its name has now changed to Macquarie Asset Mangement) took over Bingo, Buffier resigned. Both Ian Malouf, whose family owned Dial-A-Dump, and Daniel Tartak who was CEO of Bingo, remain on the Board and have been joined by Macquarie Board appointees. The new chairperson was influential businessman Tony Shepherd who is considered to be 'the father' of Sydney's tollroads and was the first Chairperson of Westconnex. He chaired then PM Tony Abbott's Commission of Audit which recommended drastic cuts to government services. Today he is Chair of Venues NSW and GWS Giants. He is also on the Board of Racing NSW ( along with former NSW National Party Minister for Sport George Souris) and the GWS Giants. Few businessmen in NSW cab rival his networks of influence.
Like all major companies, Bingo has skilled lawyers pushing back against any legal action which would undoubtedly do brand damage to Bingo's current applications to expand its Eastern Creek site. Last year, Bingo's corporate legal team was a finalist in the Lawyers' Weekly corporate law team competition. Macquarie Group's legal team will now be adding to Bingo's clout. Its focus will be on protecting Macquarie's global image in countries where it operates infrastructure including tollroads and waste facilities.
Could part of the reason for the delay in prosecuting Bingo be that its lawyers have threatened to expose the EPA's own past weaknesses in regulating the site if they are forced to defend the company's repeated breaches of its licence in court?
In 2020, shortly before MIRA took over Bingo Industries, Martin Stanley, Head of Macquarie Asset Management (MAM), said; "Environmental, Social and Governance matters have always been central to [our] investment and asset management philosophy. But as our business has grown, as the challenges our world faces become more complex and as the role of private capital evolves, we are taking our commitment to sustainable investment to a new level. Sustainability and long-term value creation are fundamentally aligned, and it remains our ambition to be the global leader in both."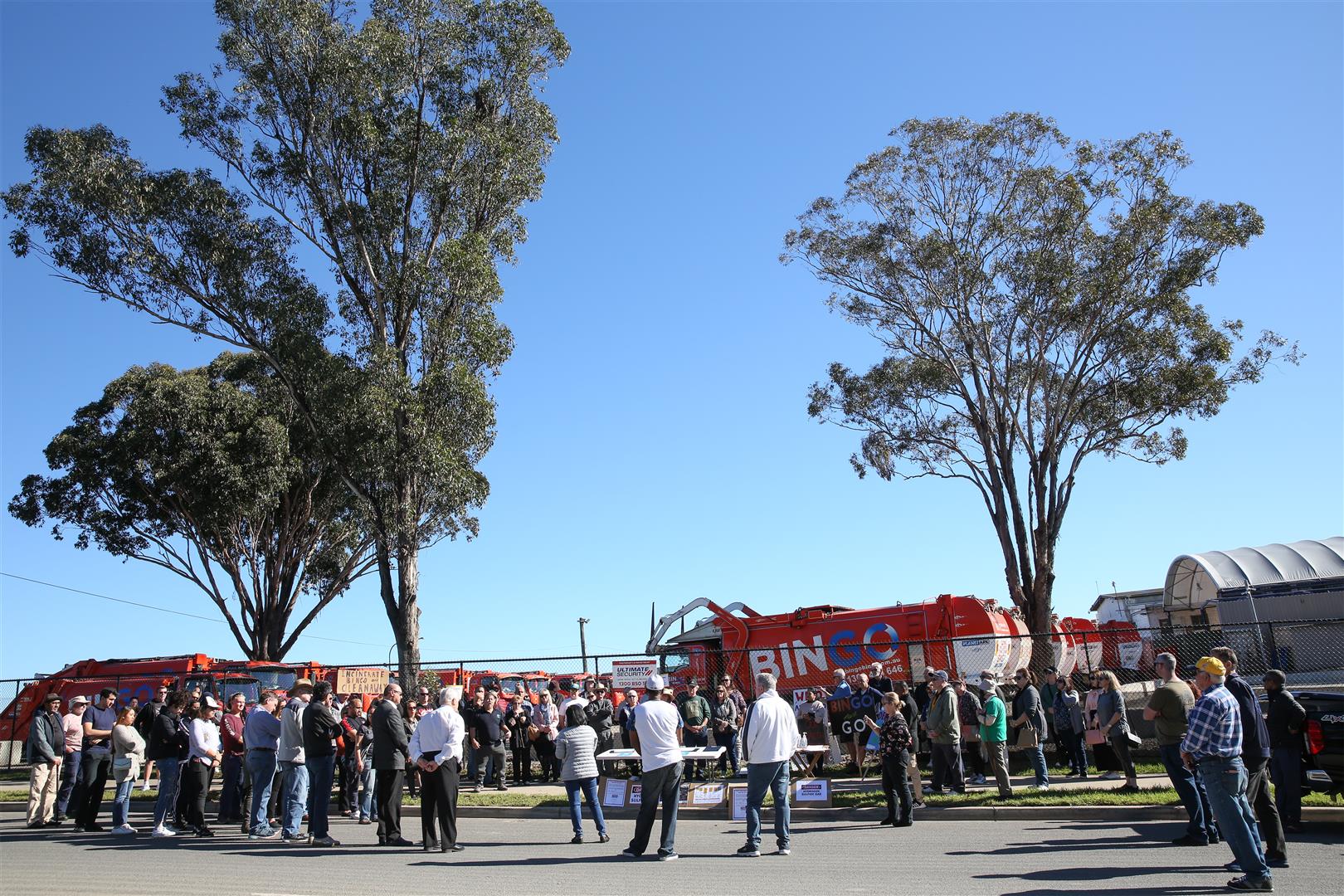 Western Sydney residents rallying outside Bingo at Eastern Creek in 2021 (photo Kim Vernon)
At the time of the takeover, Bingo assured me that the company had kept MIRA's board abreast of the odour problem and that the global company had done its 'due diligence'. Perhaps the Macquarie Asset Management Chairman Martin Stanley needs to visit Bingo's Eastern Creek waste facility and the suburbs surrounding it on a day when the odours are bad. He has stated that Macquarie's long term goals of sustainability and wealth creation are compatible. At the moment whatever profits are being made at Macquarie's operations at Eastern Creek are definitely not compatible with its 'sustainability' goals.
The odours have seriously affected the quality of life for the people around the Bingo site. Even when the foul smells go away, residents are left wondering if and when they are coming back. Given the scale of the breaches, residents continue to hope that EPA's frustration at Bingo's latest appalling environmental lapses means that it will soon initiate one or more prosecutions of the company in the Land and Environment Court. They are also opposed to any approval of the further applications for expansion. These applications have been lodged with NSW Planning and Environment, the larger department within which the EPA sits. NSW Planning is bound to ask the EPA's advice when considering applications. But even if the EPA recommends against approval, the EPA's opinion can be overridden as we saw when the EPA recommended against approval for Westconnex Stage 3 construction work. On the other hand with a state election looming in 2023 , it would seem reckless for the Planning Minister Anthony Roberts to allow a company with such a poor environmental record to expand the scale of its operations. But one can never be sure especially from a Minister who last month scrapped proposals for new design principles that would ensure that buildings are built to minimise impacts of climate change. Labor MP for Mount Druitt Edmond Atalla has made repeated representations to the government on behalf of his constituents but a call from Federal MP Chris Bowen last year for the site to be closed down until the odour problem has not been repeated in 2022.
Update: While I was preparing this post, Bingo again emitted awful odours on May 6th. This week, Community Environment Monitoring research director Charlie Pierce has trained a community member on how to use a hydrogen sulphide monitor and installed some more low cost particulate monitors. Hopefully, this will provide the community with the means to test for odours themselves as well as relying on the EPA's monitors which have been installed at three fixed locations in Minchinbury as well as near the perimeter of the waste facility. Although the community is aware of the streets where they have been installed, the residents have not been informed of their exact location.
The EPA has a 24-hour Environment Line for complaints. It can be reached by emailing info@epa.nsw.gov.au or calling 131 555.
Disclosure: I am a member of Community Environment Monitoring which aims to bring together scientists, journalists, artists and others to support communities tackling pollution.